Takedown Rampage is a story of racing action with a mix of romance and comedy which was created by Karlos Triño. The story is loosely based off of the 3 hit racing series,
Need for Speed
,
Asphalt
and
Burnout
. The story is about
Karlos
and
Kyle
getting in action-filled illegal street races and they face near-deaths all because of Mr. Skull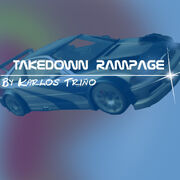 . The story got a hit in Karlos's local school, and a short stop motion video has been released in YouTube.
It uses over 20 vehicles, mostly from video games (for example, the NFS Edition Super Snake in The Run). The story also foresees illegal racing throughout the world, from the Philippines (their home location) all the way to UK.
According to Karlos, more than 50 characters in over 50 chapters (that will be seen in Webnode only), with a mix of local racers and ultimate oval racers. More than 40 people will meet and race Karlos and Kyle and a love relationship is going on between Kyle and Clarissa.
Characters
Edit
Main Characters
Edit
Minor Characters
Edit
Other TR members
Local racers
Main Vehicles
Edit
Karlos's Porsche 911 Carrera S. Note that Karlos's car always vary.
Kyle's Lamborghini Aventador J. His car could also vary.
Kline's BMW M3 GTS
Kurt's Volkswagen Scirocco R
Wig2x's Nissan GT-R (R35) SpecV
Mr. Skull's Lamborghini Reventon (Wrecked by Karlos and Kyle 3 years ago)
Mr. Skull's Mercedes-Benz MB100
Head to the TR website and read chapter 2!: takedownrampage.webnode.com
For mobile users: add an "m." on the start.
The story depends on Karlos's imagination.
Kyle is the first most mentioned character in the story as he is the one causing the main problems, second to Karlos.
Mr. Skull owns a warehouse as said in the first chapter. This is blown up in chapter 10.
The Befit studio is blown up by the near-end of the first chapter, but Kurt re-visits it to gain muscles in chapter 20. The studio may be rebuilt overtime, according to Karlos's imagination. In chapter 3, the studio had planks of barriers blocking a hotel entrance and a car park on the street, with signs saying, "MEN AT WORK" and "HARD HAT AREA." In chapter 6, a bulldozer comes in delivering concrete to the workers. Also in the same chapter, Kyle hits the bulldozer, causing the Super Snake to barrel roll and crash to a nearby restaurant called Mandarin. In chapter 11, the studio is almost done, with the window washers lining in to clean the windows. In chapter 19, the studio is finally re-opened.