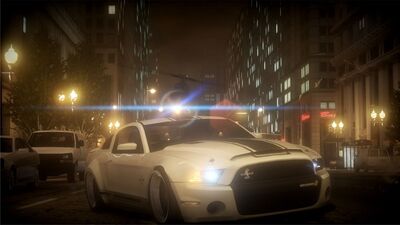 Kyle's Shelby GT500 Super Snake is his second main car in Takedown Rampage.
This Super Snake is Prudhomme Edition, so I'd better say it's upgraded to a 710 horsepower supercharger, same one in Karlos's Carrera.
Appearance
Edit
The car appears as it was in The Run, only faster and more agile. The body is completely made out of carbon fibre, making it as light as a new Aston Martin. This car could do well in straightaways but it could understeer in curves. The interior is just as standard as an original Super Snake.
This is Kyle's second most used car in Takedown Rampage, the first being his Aventador J.
The car in The Run in the same variant (minus the 710 horsepower) goes up to 303 kph.
The Super Snake is the second most wrecked car in Takedown Rampage (6 wrecks), the first is Karlos's Carrera (10 wrecks).
Drifting is not a good idea when driving Kyle's Super Snake--3 of the 6 wrecks he made are most likely because of this.