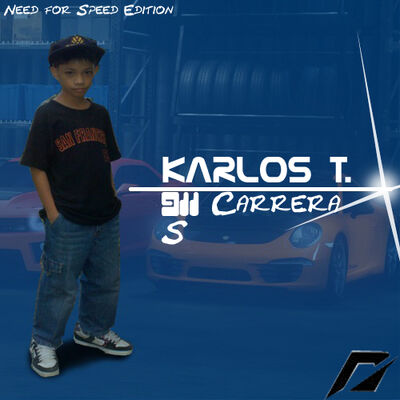 Karlos (full name: Karlos Leon Trino) is the main protagonist of Takedown Rampage.
He's slow on the uptake, but this bad boy has some pretty neat skills in his Carrera. He could even blow your noggin since then trash talking arrived!
Style of outfit
Edit
The VW Cap, and the San Francisco shirt isn't part of his outfit. He wears a blue checkered polo WITHOUT the cap. The jeans and the DC shoes become standard, not to mention he occasionally wears his Casio sports watch.
Relationships
Edit
Kyle annoys him and he annoys Kyle too. They have a friend and enemy relationship around here. Although in Vince's awesome life!, they seem to be pretty good friends, as they stopped Vince from escaping a police pursuit.
The rest of the team
Edit
He is the main team leader so he's in-charge of everything. He, Wig2x, Kline, Kurt and Kyle usually play Roblox together.
Apparently, Karlos has the most cars in the team. He owns a total of 11 cars in his collection.
2012 Porsche 911 Carrera S
Edit
For more information about this car, click here.
Callaway C16
Edit
For the upcoming chapter 3, Karlos steals this car along with Kyle, since both of their cars were wrecked after falling off a cliff. This car has about 690 horsepower with a top speed of 210 kph.
Maserati GranCabrio MC Stradale
Edit
This is his current main car for the story. This car packs 710 bhp with a top speed of 235 mph.
"Tensor" Lamborghini Gallardo LP 570-4
Edit
A car that is so nible yet powerful and quick. This Gallardo is a rental car in Need for Speed World. This car packs the same specifications as the GranCabrio.
Mercedes-Benz S600
Edit
Karlos's S600 only appears in some chapters. Kyle uses this to a trip to London, where things got complicated between him and Clarissa.
Land Rover Range Stormer
Edit
This bulky SUV only appeared in the same chapter where Kyle drive the S600. The specifications of the car are unknown.
"Foose" Dodge Challenger R/T
Edit
As mention in the TV show "Overhaulin'", this is the very first car to have the HEMI 392 engine. Although, the specifications of the muscle are unknown.
Aston Martin One-77
Edit
Remarkably built in the game "Drag Racing" and made in real-life (along with the other 3 cars listed below), The Aston Martin packs 1426 bhp plus 335 bhp N20, this could take on a Bugatti, Hennessey, or an SSC.
Bugatti Veyron 16.4
Edit
With 1040 bhp, he is ready to take on some of the world's most notorious street racers.
Brabus SLS 700 Biturbo
Edit
The car is still a work in progress, though now it has 808 bhp with 33 bhp N20.
1960's Chevrovet Camaro ZL1
Edit
The car is fully upgraded with 819 bhp with 335 bhp N20.